2020 is a unique year for AYDA as the world was plunged into the COVID-19 pandemic. Our participants were challenged to create designs that address the needs of society and the end-user. Many participated in both Architecture and Interior Design and Paul John Jandoc of the University of Baguio and Margarita Therese "Maita" Hagad of the De La Salle-College of Saint Benilde bagged the Gold Award in Architecture and Interior Design respectively.
That was in February. Several months pass and in the meantime, our local judges mentored Paul and Maita to prepare them for the regional competition. In previous years our winners traveled to the host country and had the opportunity to interact with their fellow finalists and presented their designs to the judges in person.
Regional presentation and judging
Architecture category
On June 23, 2021, Paul John Jandoc and the 12 other finalists from the participating countries presented their designs to the judges. You can view his presentation in the video below along with the comments of the judges.
I had the opportunity to watch his presentation and he made me feel really proud! I felt that he represented the Philippines really well and his design proposal is buildable and provides a solution to our local needs.
Interior Design category
The following day, June 24, 2021, Maita Hagad, along with 9 other finalists from participating countries presented their designs to the Interior Design judges.
Even during the local competition, Maita's confidence was apparent and it showed even as she presented her design to the international judges. You can watch her presentation and the comments of the judges below.
AYDA2020 Regional Awarding Ceremony
2018 was the first time that AYDA had an Honorary Mention Award with Prince Lu of UP Mindanao in the Architecture category. AYDA2020 had several honorary mentions in both categories. You can view the highlights of the Awarding Ceremony here:
The Philippines 🇵🇭 wins its first AYDA international award in Interior Design!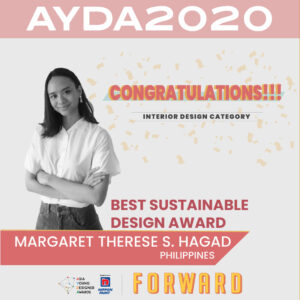 Maita's design called Bagasse Mountain Resort earned her the Best Sustainable Design Award at the AYDA2020 Regional Award Ceremony. This is our first award in the competition in the Interior Design category. She received a trophy and a cash prize of US$1,000.
Congratulations, Maita! We are so proud of you!