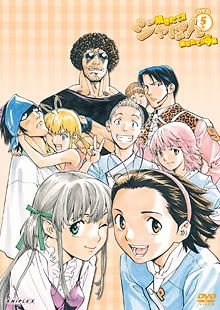 Recently I've been an avid manga reader . . . Thanks to my work which has a lot of "dead" time scattered through the day. Doing more productive stuff can easily be done with the number and length of my "dead" time , so reading manga is the best answer to avoid boredom.
One of my most favorite manga is . . . (drum roll please . . . ) Yakitate!! Ja-pan (焼きたて!! ジャぱん) which means "Freshly Baked!! Ja-pan", in Japanese "-pan" also means bread.
Some facts about Yakitate!! Ja-Pan . . .
Yakitate is a manga created by the very creative Takashi Hashiguchi. It was then serialized in Shogakukan's Shōnen Sunday. It has also been adapted into a television anime series by Sunrise.
On January 2007, the manga Yakitate has spanned 25 volumes of stand alone comic books.
While on January 10, 2007, the weekly serialization of the manga has ended.
The anime series was broadcasted on TV Tokyo and other local stations from October 2004 to March 2006, the span was totaled to 69 episodes. The series also won the best manga award on the 2004 Shogakukan Manga Award The manga series was then
licensed by VIZ Media for North American distribution.
ABOUT YAKITATE!! JA-PAN (STORY)
Yakitate!! Ja-Pan like it name says is about bread made in Japan and the team of bakers who bakes them. Yakitate!! actually shows the creativity these bakers put in baking their creations. They need to consider not only the taste, the quality and the presentation of their bread and other pastries but also it's sellability and the price.
The story revolves around Azuma, who found his passion with bread from a baker that, due to lost of customers, closed his shop and left. His goal is to make the perfect JAPANESE bread or Ja-Pan! Azuma has a lot of adventures even defeating strong bakers in different contests held all over the world. With every step Azuma makes, the better baker he becomes and eventually (hopefully) will achieve his dream Ja-Pan.
*images from Koucho of photobucket.